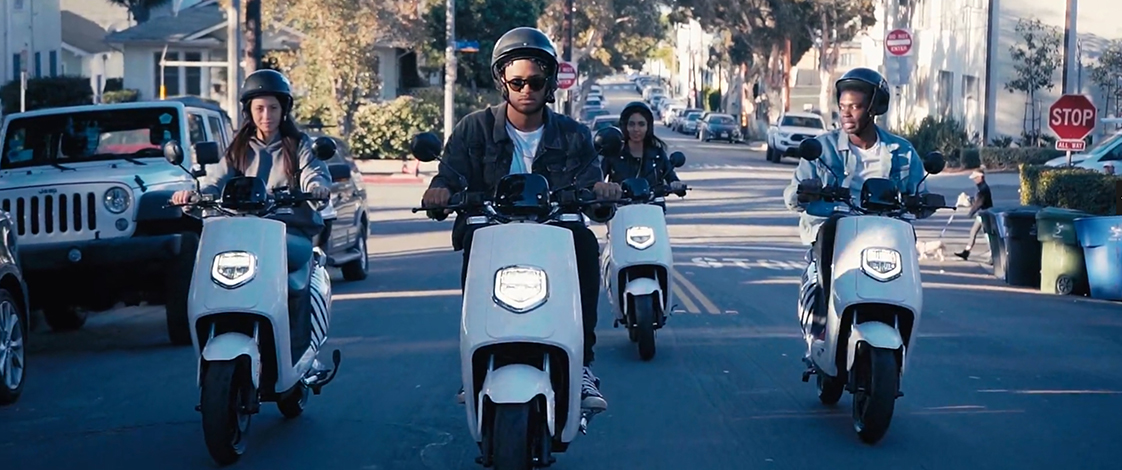 Enlarge
Zebra motorized scooters have hit the streets in Sacramento. The San Francisco-based startup began delivering the scooters to customers in November.
EMILY HAMANN | SACRAMENTO BUSINESS JOURNAL


First it was electric bikes, scooters and cars, and now electric mopeds are hitting the streets of Sacramento, thanks to a San Francisco startup.
Zebra Inc. began delivering electric riding scooters to Sacramento customers in November. Unlike the shared Jump and Lime bikes and kick scooters, Zebra scooters are leased month-to-month, and are used by just one customer.
"We didn't think free-floating scooters were a car replacement," said Michael Brown, Zebra's chief revenue officer. "It wasn't something you could rely on."
While the free-floating bikes and scooters have been hailed as a first mile/last mile solution, customers can use a Zebra scooter for longer commutes, and customers don't have to worry about someone else taking and dropping off the scooter somewhere else while they're at work.
"We have a lot of people that just use this as their main source of commuting," Brown said. "It's way cheaper than owning a car as well."
The scooters have removable battery packs, so they can be charged using a charger plugged into a standard wall outlet while at home or work.
The scooters have a top speed of 30 mph. Brown said they are classified as motorized scooters, and can be driven with a regular driver's license.
"They're relatively easy to ride. There's no clutch; you're not switching gears or anything," Brown said. "It's electric, so it's super easy to get the hang of riding them."
He said the company verifies each customer's driver's license and checks their driving record. When the scooter is delivered, the customer gets an in-person lesson on how to operate it.
The scooters rent for $99 per month, which includes maintenance and a helmet.
The company launched in San Diego this summer.
Brown said there are around 400 to 500 scooters in San Diego. Zebra also plans to launch in the Phoenix/Scottsdale area and in Los Angeles in the coming months.
The company picked Sacramento as its second market in part because of the success of Jump bikes here.

"We knew that there was demand for this type of transportation," Brown said. He also said Zebra took notice of the city revitalizing itself, through projects like Golden 1 Center.
Sacramento is working to promote itself as the state center for transportation innovation. In 2017, it launched the the Autonomous Transportation Open Standards Lab, which was planned to support the development of autonomous vehicles. The Sacramento Municipal Utility District has also funded the California Mobility Center, which is beginning to take shape, and is planned to serve as a research center and lab for electric transportation innovation. The city is also on track to receive $40 million in electric vehicle infrastructure and services from Electrify America.
Brown said Zebra was inspired to use motorized scooters when its leaders traveled abroad, and saw how extensively they are used in other parts of the world.
The company was started by Kody Amburgey and R.J. Napolitano, who moved to Los Angeles from New York City last year to launch their transportation startup. At the time, it was a planned to be a peer-to-peer car sharing app called Transfr. After coming up with Zebra, however, the company decided to focus its efforts on the new idea.
Zebra is backed by venture capital funding, but Brown declined to say who the investors are or how much they have put into the company.